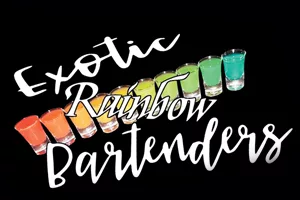 Bartender Services
Bartender Services by ExoticRainbow Bartenders. Trabajamos todo tipo de evento social como: bodas – xv – Bautizos Eventos – Sociales despedidas de soltero(a) .
Somos un grupo que hace de tu evento una noche especial para ti y tus invitados… Ven y conoce nuestro servicio.
Para más información   (956)800-0676   Alberto Castillo
Contamos con carritos de shots.
Visitanos en Facebook: https://www.facebook.com/ERbartenders
ExoticRainbow Bartenders in the Rio Grande Valley offer an inclusive and professional experience that adds flair and sophistication to any event. Whether you're hosting a wedding, corporate gathering, or private party, hiring a professional bartender can elevate the atmosphere. It also ensures that all guests have a memorable time.
One of the key advantages of hiring a bartending service is the expertise and skill that bartenders bring to the table. These professionals receive thorough training in mixology and possess extensive knowledge of cocktails, spirits, and drink recipes. They skillfully craft a wide range of signature cocktails, mocktails, and customized drinks tailored to your preferences and theme. With their attention to detail and mastery of drink preparation techniques, bartenders create visually stunning and delicious beverages that leave a lasting impression on all guests.
In addition to their mixology skills, bartenders excel in providing exceptional customer service. They engage with guests, creating a welcoming atmosphere and ensuring that their drink preferences are met. From recommending drink options to offering personalized suggestions, bartenders go above and beyond to cater to the unique tastes and preferences of each individual. Their professionalism and friendly demeanor contribute to a positive and enjoyable experience for everyone in attendance.
Furthermore, ExoticRainbow bartending services often provide a comprehensive package that includes not only bartenders but also the necessary bar equipment and supplies. This package encompasses portable bars, glassware, garnishes, and mixers. By entrusting these components to a professional service, you can focus on other aspects of event planning, with the assurance that the bar setup will be efficient and aesthetically pleasing.
Moreover, bartenders understand the importance of responsible alcohol service and receive training to identify and handle potential issues related to overconsumption and underage drinking. This commitment ensures that your event complies with legal requirements and promotes a safe and enjoyable environment for all attendees.
Whether you're hosting an intimate gathering or a large-scale event, bartending services can accommodate your needs. They offer flexible packages and staffing options based on the size and nature of your event. Whether you require a single bartender or a team of professionals, they can tailor their services to meet your specific requirements.
In conclusion, bartending services, such as ExoticRainbow Bartenders, provide an inclusive, valuable, and professional addition to any event. From their mixology expertise and exceptional customer service to their comprehensive packages and adherence to safety protocols. They bring a level of professionalism and sophistication that enhances the overall experience. By hiring a bartending service, you can relax and enjoy your event. Knowing that all guests will be treated to delicious drinks and outstanding service in an inclusive environment.