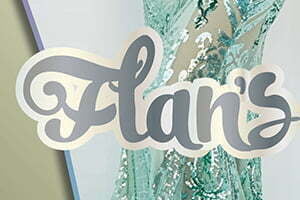 Flans Bridal & Quinceaneras dresses -Flans Bridal.  Bridal Haute Couture by Flans. Exclusive collection for all Bridals. Visit any of their locations in Mcallen for bridal and Quinceañera dresses.
We are All over Main St. in Mcallen, TX Visit any of our 6 locations.
https://www.facebook.com/FlansBoutique
Finding the perfect bridal dress is a crucial part of every bride's wedding journey. In McAllen, brides are fortunate to have a wide selection of wedding dresses and wedding gowns available to them. With Flans Bridal being prominent destinations for bridal attire.
Flans Bridal is a renowned bridal boutique in McAllen that specializes in providing exquisite wedding dresses. Extensive collection of designer gowns, brides-to-be can explore variety of styles, fabrics, silhouettes to find the dress of their dreams. Whether you envision a classic ball gown, a sleek mermaid dress, or a romantic A-line gown. Flans Bridal offers options to suit every taste and preference. Our knowledgeable and friendly staff provide personalized assistance, guiding brides through the selection process and ensuring a memorable/enjoyable experience.
With attention to detail and commitment to quality, we have established a reputation for delivering exceptional bridal attire. Brides can browse through a curated collection of wedding dresses, each carefully chosen for its craftsmanship and style. From intricate lace designs to modern minimalist creations, Flans Bridal caters to the unique visions and personalities of their clients. Our team of experienced consultants provides individualized attention, ensuring that every bride finds a dress that makes her feel beautiful. And confident on her special day.
When it comes to bridal dresses in McAllen, both Flans Bridal and Valley Brides understand the importance of offering a comprehensive selection. They carry a range of sizes to accommodate diverse body types and have options suitable for various budgets. Whether you desire a luxurious designer gown or an affordable yet stunning dress, these bridal boutiques strive to cater to every bride's needs.
In addition to their exceptional collections, Flans Bridal and Valley Brides provide additional services to enhance the bridal dress shopping experience. They offer alterations and customization services, ensuring that each dress fits perfectly and reflects the bride's unique style. Furthermore, their knowledgeable staff can provide guidance on accessories, such as veils, headpieces, and jewelry, to complement the chosen gown and complete the bridal look.
Brides in McAllen can trust Flans Bridal and Valley Brides to deliver not only beautiful wedding dresses but also outstanding customer service. These bridal boutiques understand the significance of the wedding day and go above and beyond to make the dress shopping experience enjoyable, stress-free, and unforgettable. From the moment a bride steps into their doors to the final fitting, Flans Bridal and Valley Brides are dedicated to making each bride's wedding dress journey a truly special one.
In conclusion, brides in McAllen have access to a diverse range of bridal dresses and wedding gowns. Flans Bridal is esteemed destinations that offer exceptional collections, personalized service, and a commitment. To ensure that every bride finds her perfect dress. With expertise and dedication, these bridal boutiques help create unforgettable wedding moments. Ensuring that brides feel beautiful, confident, and ready to walk down the aisle on their big day.