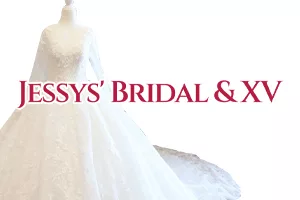 Bridal shops near me. Jessy's Bridal & XV. ¡Descubre la elegancia que tus sueños merecen en nuestra exclusiva boutique de vestidos y accesorios para novias y quinceañeras! Contamos con variedad de vestidos y accesorios para bautizoz, primera comunión y prom. Horario: Lunes – Viernes 10AM – 6PM  Saturday 10AM – 4PM
Visitanos en 2210 E. Trenton Rd. Edinburg, TX o en nuestras redes sociales.
Jessy's Bridal & XV, located in the heart of Edinburg, Texas.  Is the epitome of elegance when it comes to bridal and quinceañera dress shopping. To begin with, we understand that these events are significant moments in a person's life.  And the attire worn should reflect the essence of the celebration. Look for us as Bridal shops near.me
Furthermore, our boutique is a treasure trove of exquisite bridal and quinceañera dresses that cater to a wide range of styles and preferences. Whether you dream of a fairytale wedding gown or a vibrant quinceañera dress.  Jessy's Bridal & XV has the perfect ensemble waiting for you.
In addition, our dedicated team of fashion experts is committed to assisting you in finding the dress of your dreams. We take pride in offering personalized consultations to understand your vision and help you select the gown that complements your personality and style. Bridal shops near me
Moreover, we believe in offering a holistic experience beyond just dress shopping. Our boutique offers a wide range of accessories, including veils, tiaras, jewelry, and shoes. To complete your look and add the perfect finishing touches.
As a result, we understand that dress shopping is a memorable journey.  Our goal is to make it a delightful and stress-free experience. Our spacious and elegant boutique provides the ideal backdrop for exploring our stunning collections. Bridal shops near.me
Additionally, Jessy's Bridal & XV Bridal shops near me is deeply rooted in the Rio Grande Valley community. But We understand the cultural significance of events like quinceañeras. And we take pride in providing dresses that embrace tradition while infusing modern style.
Consequently, we are dedicated to ensuring that each client leaves our boutique with not only a beautiful dress but also a sense of confidence and joy. Your special day should be marked by the perfect dress that makes you feel radiant and unforgettable.
In conclusion, Jessy's Bridal & XV is the premier destination for bridal and quinceañera dress shopping in Edinburg, TX. Our commitment to excellence, personalized service, and stunning collections make us a cherished choice for Valley weddings and quinceañeras. We invite you to visit our boutique and embark on a dress shopping experience that will leave you with treasured memories and the perfect gown that reflects your unique style and celebrates your special moment. Trust us to be a part of your milestone occasion, where every dress tells a story of love, tradition, and style.
Looking for event centers nearby? Follow here