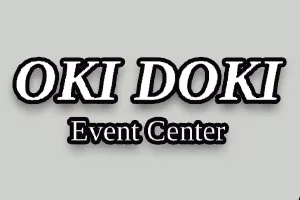 Event Center in Edinburg TeXas.  Oki Doki Event Center, ¿Cuál es tu proximo evento?
Donde los sueños se hacen realidad. Bodas llenas de amor, quinceañeras llenas de alegría, graduaciones llenas de éxito y aniversarios llenos de amor. Celebra con nosotros. Capacidad hasta 200 personas. 
Vistanos en 2210 E Trenton Rd. Edinburg, TX.   956-800-3228
Estamos en Facebook, visitanos
Oki Doki Event Center stands as a hallmark of excellence in Edinburg, Texas.  Offering a stunning venue that sets the stage for unforgettable Valley weddings and quinceañeras. To begin with, we understand that these celebrations mark significant milestones in the lives of our clients.  And our commitment is to make every moment truly special.
Furthermore, our event center is more than just a space; it's a canvas where dreams come to life. With a spacious and versatile layout, it can be transformed to suit any theme or vision. Whether you envision a romantic wedding or a vibrant quinceañera, Oki Doki is the ideal backdrop.
In addition, our team of experienced event coordinators is dedicated to ensuring that every detail aligns with your unique preferences. From decor to seating arrangements, we take pride in bringing your vision to fruition.
Moreover, Oki Doki Event Center is equipped with modern amenities and top-notch facilities to ensure the comfort and convenience of your guests. Our sound and lighting systems, along with ample parking, cater to a seamless event experience.
As a result, our venue has earned a reputation for hosting seamless and memorable Valley weddings and quinceañeras. Our attention to detail, commitment to quality, and dedication to creating unforgettable moments have made us a preferred choice in the Rio Grande Valley.
Additionally, we understand the significance of cultural traditions in events like quinceañeras.  And we are well-versed in incorporating these elements seamlessly into the celebrations. Our goal is to honor your heritage while creating a contemporary and vibrant atmosphere.
Consequently, our commitment to exceptional service extends to every aspect of your event. From the initial planning stages to the day of the celebration, our team is there to ensure that everything runs smoothly.
In conclusion, Oki Doki Event Center is the epitome of elegance and versatility.  Making it the perfect choice for Valley weddings and quinceañeras. Our dedication to exceeding expectations, coupled with our state-of-the-art facilities, promises an experience that is second to none. Your special day deserves nothing less than the best, and Oki Doki Event Center is here to turn your vision into reality. Trust us to host your milestone moments, where every detail matters, and every memory is cherished.
Planning your honeymoon? Here are some ideas where to have the best time.  Click here