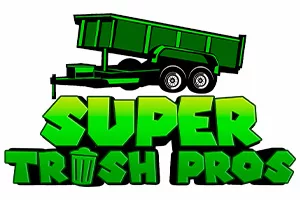 JUNK REMOVAL & DUMPSTER RENTAL – SUPER TRASH PROS
Commercial – Residential Junk removal and dumpster rental.
Our Services: Appliance removal – Trash Hauling – Yard Clean up and More!
Alan Lopez. 956.867.1352.  Visit us in Facebook:
In the sprawling Rio Grande Valley, where convenience and cleanliness go hand in hand. Super Trash Pros emerges as the go-to solution for comprehensive junk removal and dumpster rental services. With a commitment to making your space clutter-free and organized.  Super Trash Pros offers a wide array of services that cater to diverse needs, ranging from appliance removal to yard clean-up.  Making them the ultimate choice for trash hauling and more.
Dealing with unwanted items can be a daunting task.  But Super Trash Pros simplifies the process by providing a range of services designed to accommodate various situations. From appliance removal to furniture disposal, their experienced team handles each task with efficiency and professionalism. The goal is to relieve you of the burden of clutter while promoting responsible waste management practices.
JUNK REMOVAL & DUMPSTER RENTAL hauling is a chore that demands expertise and proper equipment. And Super Trash Pros rises to the occasion. With a fleet of well-equipped vehicles and a skilled crew, they offer reliable and timely trash hauling services. Whether you're tackling a home renovation project or simply need to clear out accumulated debris. Their hauling services ensure a clean and tidy space.
Yard clean-up, often a laborious task, is yet another area where Super Trash Pros excels. They understand that maintaining an aesthetically pleasing yard is essential, but the work can be overwhelming. Their yard clean-up services encompass everything from removing fallen branches and leaves to clearing out overgrown vegetation, helping you restore your outdoor space to its full potential.
The versatility of Super Trash Pros extends beyond individual services; they also offer dumpster rental options tailored to your needs. Whether you're managing a construction site, organizing a community event, or decluttering your home, their dumpster rental services provide a hassle-free solution to handle waste efficiently.
In the realm of waste management, Super Trash Pros stands out as a reliable partner committed to enhancing the tidiness and functionality of your space. With a diverse range of services, including appliance removal, trash hauling, yard clean-up, and dumpster rental, they offer a one-stop solution to all your junk removal needs. Their team's dedication, coupled with their state-of-the-art equipment, ensures that your space is left clean, organized, and ready to thrive.
In conclusion, Super Trash Pros brings order to the chaos of junk removal and waste management in the Rio Grande Valley. Their comprehensive services, from appliance removal to yard clean-up, promise efficiency, reliability, and a commitment to maintaining a clean and clutter-free environment. With Super Trash Pros at your service, you can transform your space and enjoy the benefits of a well-maintained environment.