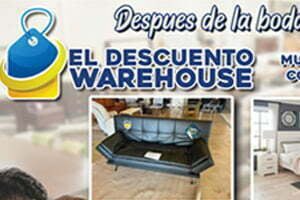 Mueblería para tu casa -El Descuento Warehouse
Mueblería para tu casa -El Descuento Warehouse. Después de la boda. Muebles, recamaras, salas, comedores y mucho mas.
914 W. Frontage Rd. Alamo, TX
956-270-0527.  956-309-7921
Visitanos en Facebook
https://www.facebook.com/VTIKO
The lease-to-own option offered by El Descuento Warehouse allows you to get the things you need without paying for them all at once. Instead, you can make smaller monthly payments over a period of time.
One of the great things about the lease-to-own option is that it's affordable. If you don't have enough money to buy expensive items upfront, like furniture, appliances, or electronics, this program lets you pay for them in smaller, more manageable amounts.
With the lease-to-own option, you have the freedom to choose from a wide range of high-quality products available at El Descuento Warehouse. Whether you're looking for a nice living room set, a fancy kitchen appliance, or the latest entertainment system, you can pick the items that suit your needs and style.
Another benefit of the lease-to-own option is that it can help you build or improve your credit. El Descuento Warehouse reports your payment activity to credit agencies, so if you make your payments on time, it can show that you're responsible with your finances. This can make it easier to get better financing options in the future.
The lease-to-own program also includes warranty and protection plans. This means that if anything goes wrong with the items you lease, you're covered. You don't have to worry about unexpected repair costs.
El Descuento Warehouse makes the lease-to-own process simple and easy. Applying is quick and easy, and you don't need a lot of documents. Once you're approved, you can take the items home right away and start enjoying them.
In summary, El Descuento Warehouse's lease-to-own option is a practical and affordable way to get the things you need. You can choose from a variety of products, build your credit, and have peace of mind with warranty coverage. Applying is easy, and you can start using your leased items right away.