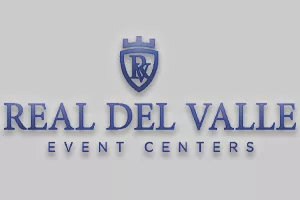 Salones eventos Edinburg TX – Real del Valle Event Centers
Salones eventos Edinburg TX. Pregunta por nuestros paquetes especiales para el 2024 y 2025.
Contamos con 4 salones para tus eventos y areas verdes para eventos al aire libre. Tu mejor salon para eventos en Edinburg, TX los encuentras en:
4631 SOUTH VETERANS BLVD EDINBURG, TX.
Villa Azul Edinburg, TX
UNIQUE – ELEGANT UNFORGETABLE.  Three Event Venues that accommodates to your events and area for outdoor events, a Must SEE!
Now reserving for 2024 and 2025.  Ask for our promotions.  Call us for details.
Real del Valle Event Centers, Villa Azul in Edinburg, TX
Free Casa Real For Bridal Shower when you contract your event at one of our venues
Your best Event Venue in Edinburg is located at: (Salones eventos Edinburg TX)
4631 SOUTH VETERANS BLVD EDINBURG, TX.
When it comes to planning a wedding in Edinburg, TX, couples have an array of stunning venues to choose from. Edinburg, located in the heart of the Rio Grande Valley, offers a picturesque backdrop for unforgettable valley weddings.
Real Del Valle and Villa Azul,  in Edinburg, TX, (Salones eventos Edinburg TX) provide couples with a range of options. Options to suit their preferences and style. From elegant indoor venues to breathtaking outdoor spaces,  feel asure there is something for every couple's vision.
One popular choice for wedding venues in Edinburg is the beautiful outdoor gardens. These lush and manicured gardens provide a romantic atmosphere for exchanging vows and capturing memorable photographs. With the natural beauty of the surroundings enhances the overall ambiance of the ceremony. You can only find the best Salones eventos  Edinburg TX in Elite Magazine.
When it comes to the wedding party reception entrance songs, couples can choose from a wide selection of music. A selection that reflects their personal taste and style. Whether they prefer a romantic ballad, an upbeat pop song, or a timeless classic. The entrance song sets the tone for an unforgettable celebration.
The key to selecting the perfect entrance song is to choose one that resonates with the couple and evokes feelings of joy and excitement. Some popular choices include "Can't Stop the Feeling" by Justin Timberlake, "Marry You" by Bruno Mars.
In conclusion, Edinburg, TX, offers a range of stunning wedding venues that cater to couples' preferences and desires. From outdoor gardens to charming chapels, there is a venue to suit every couple's vision. When it comes to the wedding party reception entrance songs, couples have the freedom to choose a song that represents their unique love story and sets the stage for a memorable celebration. (Salones eventos Edinburg TX)
Visit us in Facebook: https://www.facebook.com/SalonRealDelValle
Sabes que representan y significan cada año de bodas? https://elitemagazinergv.com/significados-anos-de-boda/