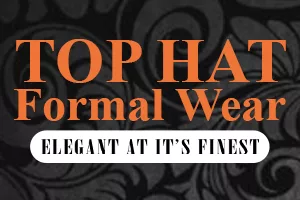 Tuxedo Rental Mcallen – Top Hat Formal Wear
Tuxedo Rental Mcallen. La colección más nueva en tuxedos vaqueros.
Los tuxedos más elegantes para: BodasQuinceañerosChambelanes
120 S. Broadway McAllen, TX 78501.   956-668-0010
Vistanos en Facebook
Top Hat Formal Wear: Elevating Elegance in Tuxedo Rentals for Valley Weddings and Quinceañeros
Firstly, Nestled in the heart of McAllen, a city renowned for its vibrant culture and rich traditions. Stands a beacon of unmatched sophistication and style – Top Hat Formal Wear. With an illustrious reputation, this establishment has emerged as the ultimate destination.  Captivating those who seek to make a resounding statement of elegance at Valley Weddings and Quinceañeros within the Rio Grande Valley (RGV).
In Addittion, The moment discerning visitors step into the refined ambiance of Top Hat Formal Wear. From impeccably tailored black-tie ensembles to tastefully reimagined contemporary variations.  Every piece exudes an air of timeless charm and unparalleled craftsmanship. A testament to the unwavering commitment to excellence. That has seamlessly intertwined with the identity of Top Hat Formal Wear. Tuxedo Rental Mcallen.
Valley Weddings and Quinceañeros hold a place of profound significance within the hearts of families across the RGV. Accompanied by a team of seasoned consultants, the boutique seamlessly weaves together personalized attention and guidance.  But Ensuring each client is expertly advised on matters of color palettes, styles, and accessories. This meticulous approach guarantees that every gentleman steps forward with an aura of confidence and refinement.  Harmoniously complementing the radiance of the bride or quinceañera Tuxedo Rental Mcallen.
Beyond the outstanding selection and personalized service, therefore, it is the unwavering commitment to surpassing expectations that truly sets Top Hat Formal Wear Tuxedo rental in Mcallen apart from the rest. With an unwavering dedication to professionalism and reliability, every rental experience is meticulously choreographed, leaving no stone unturned from the initial fitting to the final adjustments. The result is an unparalleled, seamlessly orchestrated journey that culminates in an experience that is not only memorable but also thoroughly enjoyable.
As the sun gracefully sets over the undulating landscapes of the Rio Grande Valley and the first stars begin to glisten in the night sky. The gentlemen adorned in their Top Hat Formal Wear tuxedo rental in Mcallen, step onto the stage. There is an undeniable air of self-assuredness that radiates from each of them – a testament to the transformative power of a perfectly tailored ensemble. Another, it is not just the attire; it is the very embodiment of elegance, culminating in memories that are destined to be cherished for a lifetime.
In conclusion, in a region where the traditions of yesteryears harmoniously coalesce with the aspirations of today. Certainly, Top Hat Formal Wear Tuxedo Rental Mcallen, stands as a true emblem of refined artistry. Basically, Their tuxedo rentals have seamlessly woven themselves into the fabric of Valley Weddings and Quinceañeros. Adding an extra layer of grace and sophistication that resonates seamlessly with the spirit of the RGV. For those yearning to articulate their unique style on the canvas of life's most cherished milestones. Top Hat Formal Wear embodies the quintessence of elegance in the heart of McAllen.
Looking for more beauty optionst?  Press here