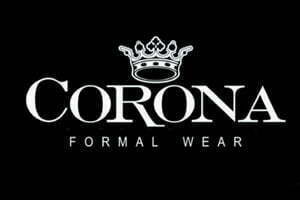 Tuxedos – Corona Formal Wear
Celebrating 48 years in Formal Wear! 4 locations to serve you better.
Classic and designer tuxedos in stock.
Prom – Groom – Quinceaneros – Chambelanes.
Visit us in any of our 4 locations to serve you better.
Corona Formal Wear    508 W Trenton Rd Suite F Edinburg, TX 78539        956-609-9064
Corona Formal Wear    260 S Texas Blvd Suite 100 Weslaco, TX 78596       956-968-4448
Armando's Tuxedos     102 E Jackson Harlingen, TX 78550     956-230-4775
Armando's Tuxedos     800 N Expressway 77 Suite 4 Brownsville, TX 78521     956-541-2561
Visit us in Facebook here
In the Rio Grande Valley, finding the perfect tuxedo for grooms and Quinceañeros is a crucial aspect of planning an elegant and memorable event. Corona Formal Wear, with its four locations valleywide, has become a go-to destination for those seeking sophisticated and stylish formal attire for special occasions.
When it comes to weddings and Quinceañeras, grooms and Quinceañeros want to look their best, and the right tuxedo can make all the difference. Corona Formal Wear offers an extensive collection of elegant tuxedos, ranging from classic and timeless designs to modern and fashion-forward styles. With a wide selection of colors, fits, and accessories, every groom and Quinceañero can find one that perfectly suits their personal taste and complements the overall theme of the event.
One of the key advantages of choosing Corona Formal Wear is their commitment to providing exceptional customer service. The staff at each of their four locations in the Rio Grande Valley is highly knowledgeable and attentive.  Helping clients navigate through the various options and ensuring they find the ideal ensemble for their special day. Whether it's a black-tie wedding or a themed Quinceañera celebration.  Corona Formal Wear has the expertise to make the tuxedo selection process seamless and enjoyable.
Moreover, Corona Formal Wear understands the importance of fit when it comes to formal attire. Ill-fitting tuxedos can detract from the overall elegance of the event. That's why they offer expert tailoring services to ensure that each groom and Quinceañero looks and feels their absolute best. From precise measurements to impeccable alterations, their attention to detail ensures a polished and sophisticated appearance.
Corona Formal Wear takes pride in its diverse collection of designers, which includes reputable brands known for their quality and style. With their extensive inventory and attention to the latest trends in formal wear, they ensure that clients have access to the finest and most up-to-date options available.
In addition to elegant tuxedos for grooms and Quinceañeros, Corona Formal Wear also offers a range of accessories to complete the look. From bow ties and cummerbunds to cufflinks and formal shoes, they have everything needed to elevate the ensemble and add a touch of finesse to the outfit.
In conclusion, when it comes to elegant tuxedos for grooms and Quinceañeros in the Rio Grande Valley, Corona Formal Wear is a trusted and reputable choice. With four locations valleywide, they provide convenience and accessibility to clients throughout the region. Their commitment to quality, customer service, and attention to detail ensures that every groom and Quinceañero will be dressed in a distinguished and refined manner for their special event, leaving a lasting impression on their guests and creating cherished memories for years to come.
Ride in style with the newest limousines, press here