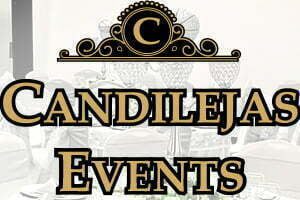 Wedding venues RGV – Candilejas Event Center
Contamos con capacidad de 100 hasta 160 personas
Promoción paquete para 100 personas Incluye: Incluye: Banquete-  Meseros – Manteleria – Decoración – DJ 5 Hrs – Coordinación – Fotografias – Video – Foto 20×30 (Entrada) Limpieza – Seguridad
2103 N. Raúl Longoria, San Juan, Tx.   956-784-4686
Visitanos en Facebook, aqui
Unveiling the Splendor of Candilejas Event Center in San Juan, TX: The Epitome of Memorable Celebrations
Firstly, Nestled in the heart of the picturesque Rio Grande Valley, Candilejas Event Center in San Juan, Texas, is a jewel among wedding venues RGV that enchants couples and families seeking the perfect backdrop for their most cherished celebrations. With its rich blend of tradition, elegance, and versatility.  This venue has become an emblem of unforgettable weddings, enchanting quinceañeras, and vibrant social gatherings, including Christmas posadas.
Weddings in the Rio Grande Valley: A Tale of Love and Legacy
The Rio Grande Valley, basically, known for its vibrant culture and warm hospitality, sets the stage for countless love stories. Couples seeking a wedding venues Rio Grande Valley, in this region often gravitate towards Candilejas Event Center for its magical appeal.
Candilejas Event Center understands that every wedding is unique and endeavors to turn each vision into a reality. But The experienced event planning team collaborates closely with couples to ensure every detail, from the flower arrangements to the menu. Reflects their personalities and preferences. The venue's flexible spaces can accommodate every dream.
Quinceañeras: Celebrating the Transition into Adulthood
Quinceañeras, a cherished tradition in Hispanic culture, greatly marks a young girl's transition into womanhood. Within These celebrations demand a venue that captures the essence of tradition while embracing modern elegance. Moreover, Candilejas Event Center embraces this tradition with open arms.  Offering young women the perfect canvas to paint their vision for this milestone.
From the grand entrance to the traditional dances, the venue provides the stage for unforgettable quinceañeras. The ballroom is adorned with stunning chandeliers and intricate detailing.  Therefore, Creating a regal atmosphere that befits the significance of the occasion. The event center's team collaborates with families to ensure every aspect. From the choice of music to the design of the cake, mirrors the young lady's unique style and preferences.
Social Events: Where Community Gathers in Celebration
Beyond weddings and quinceañeras. Candilejas Event Center serves as a gathering place for various social events.  That strengthen the bonds of the Rio Grande Valley community. Birthdays, anniversaries, corporate events, and charity galas find a welcoming home within its walls. Wedding venues RGV, The venue's adaptable spaces cater to intimate gatherings and grand festivities alike.
Christmas Posadas: A Festive Tradition
Lastly, One of the most cherished traditions in the Rio Grande Valley is the Christmas posada.  A reenactment of Mary and Joseph's search for lodging in Bethlehem. Candilejas Event Center's warm and inviting atmosphere makes it an ideal venue to host these festive gatherings. Therefore, With its elegant décor and experienced staff, the venue ensures that each posada captures the spirit of togetherness and joy that defines this tradition.
In Conclusion, In the vibrant tapestry of Rio Grande Valley celebrations. Candilejas Event Center shines as a venue that honors tradition while embracing the future. Its commitment to creating unforgettable memories in weddings, quinceañeras, social gatherings, and Christmas posadas makes it a cherished cornerstone of the community. With its versatility and dedication to excellence, it continues to be the venue of choice for those seeking to celebrate life's most significant moments in style. Wedding venues RGV
Learn what Elite Magazine do for our advertisers, click here