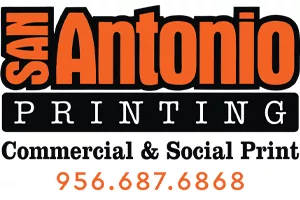 Print shop near me. Print shops in McAllen Texas.  San Antonio Printing Commercial & Social Print.
Al your printing needs in one place. Business Cards – Letterheads – Invoice books – Brochures – Labels – Flyers – Envelopes – Door hangers – Event invitations (wedding, XV Años, Birthdays) – Foil Stamping – Digital and offset printing.
Visit us at 2635 Business 83 McAllen, TX.  (956) 687-6868
See our work in social media. Visit us on Facebook
A print shop in McAllen, TX(print shop near me) is more than just a place to produce paper materials.  It's a creative hub where ideas come to life. San Antonio Printing proudly serves the Rio Grande Valley (RGV) community.  Offering top-tier printing services tailored to the needs of RGV quinceañeras and weddings. Simply search for Print shop near me.
To begin with, in the digital age, print materials continue to hold a special place in our hearts. Especially for life's significant milestones like quinceañeras and weddings. From invitations to signage and photo albums, print plays a crucial role in preserving memories.
Furthermore, at San Antonio Printing Print shop near me, we understand that these celebrations are deeply rooted in tradition and culture. Our commitment is to honor these traditions by providing high-quality print services that reflect the significance of these events.
Additionally, we offer a wide range of printing services, from designing elegant invitations that set the tone for your event to creating beautifully crafted thank-you cards that express your gratitude to guests.
Moreover, we take pride in our ability to customize every aspect of your print materials. Our team works closely with you to ensure that the design, paper selection, and finishing touches align perfectly with your vision.
In addition, we recognize the importance of timeliness in event planning. Our efficient printing process ensures that you receive your materials on schedule, allowing you to focus on other important aspects of your celebration.
Equally important, we believe that the beauty of print lies in the details. Whether it's the texture of the paper, the choice of fonts, or the precision of color, our attention to detail ensures that your printed materials are flawless.
As a result, whether you're looking for traditional invitations with intricate designs or modern, minimalist signage for your event, San Antonio Printing has the expertise and technology to deliver outstanding results. Print shop near me.
Additionally, our experienced team understands the unique needs of quinceañeras and weddings in the RGV. We are attuned to the cultural nuances and preferences that make each celebration truly special.
Consequently, San Antonio Printing has become a trusted name in McAllen, TX, and the RGV for delivering printing services that combine quality, creativity, and cultural relevance.
In conclusion, a print shops in McAllen Texas, is more than a place that produces paper; it's a partner in preserving the essence of your quinceañera or wedding. At San Antonio Printing, we take pride in contributing to the magic of these celebrations through exceptional print services. Let us help you create printed materials that encapsulate the beauty and significance of your event, leaving a lasting impression on your guests and in your memories.
Looking for a flower shop? Click here