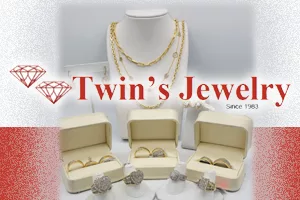 Wedding bands – Men wedding bands -Twin's Jewelry
Profesional Jewelry Repair and Manufacturing. We Sell 10K – 14K – .925 Silver
WE BUY GOLD, SILVER, DIAMONDS AND ROLEX
HEADQUARTER FOR KINDER GRADUATION RINGS
Alton – McAllen – San Juan – Edinburg
(956) 631-7077
Visit us in Facebook:https://www.facebook.com/twinsjewelrystores
When it comes to finding the perfect wedding bands in the Rio Grande Valley, jewelry stores offer a wide selection. Exquisite options that symbolize eternal love and commitment. One such jewelry store that stands out is Twins Jewelry. Which has four locations throughout the region.
With their exceptional craftsmanship, variety of styles, and personalized service, Twins Jewelry is a go-to destination for couples seeking the ideal wedding bands. Also, men wedding bands are one of our speciality.
Firstly, Twins Jewelry boasts a diverse collection of  bands that cater to different tastes and preferences. Whether you prefer classic and timeless designs, modern and sleek styles, or unique and custom-made pieces,  we have it all. Our extensive range of options ensures that every couple can find those that reflect their individual style and personality.
Moreover, Twins Jewelry places great emphasis on craftsmanship and quality. Each set is meticulously crafted using the finest materials, such as gold, platinum, or silver, and adorned with precious gemstones. If desired, men wedding bands can be made matching. The attention to detail and commitment to superior craftsmanship result in wedding bands that are not only visually stunning. But also durable and long-lasting, symbolizing a love that will stand the test of time.
In addition to their impressive selection and craftsmanship, Twins Jewelry provides personalized service helping couples find the perfect wedding rings. Their knowledgeable and friendly staff are dedicated to understanding the unique preferences and needs of each couple. Expert guidance and assistance throughout the selection process. Ensuring that couples make an informed decision finding their wedding bands exceeding their expectations.
Furthermore, Twins Jewelry understands the significance of wedding bands as a symbol of love and commitment. They recognize that each couple has a unique love story, and those should reflect that. Whether couples desire matching bands, engraved messages, or customized designs. Twins Jewelry is committed to creating wedding sets that capture the essence of their love. Serve as cherished heirlooms for generations to come.
Additionally, Twins Jewelry's multiple locations in the Rio Grande Valley provide convenience and accessibility for couples searching for the perfect rings. No matter where couples reside in the region, they can easily visit one of the four Twins Jewelry locations and explore their extensive collection. This ensures that couples can enjoy a stress-free and enjoyable shopping experience while finding one that hold special meaning.
In conclusion, Twins Jewelry is a trusted destination for couples seeking exquisite wedding bands in the Rio Grande Valley. With their diverse collection, exceptional craftsmanship, personalized service, and convenient locations, Twins Jewelry offers a seamless and memorable wedding band shopping experience. Whether couples are looking for traditional designs or unique custom-made pieces, Twins Jewelry is dedicated to helping them find wedding bands that symbolize their love and commitment. So, visit Twins Jewelry and let their expert team assist you in selecting the perfect wedding bands that will forever symbolize your journey of love.
Looking for a wedding dress? Visit this options, click here